Christopher D. Smith Sr. - Senior Pastor -

att.net@pastor_smith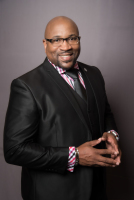 Founder & Pastor
"The Spirit of the Lord is upon me, because He hath anointed me to preach the gospel to the poor; He hath sent me to heal the broken hearted, to preach deliverance to the captives and recovering of sight to the blind, to set at liberty them that are bruised." (Luke 4:18) 
Pastor Christopher D. Smith Sr. was born in 1975 and is a native of Donaldsonville La. He grew up in the Donaldsonville area and was educated through the Ascension Parish School System, and is a 1994 Graduate of Donaldsonville High. Pastor Smith also grew up in his home Church, Mt. Zion Baptist Church of Donaldsonville La. where he became involved with doing the Lords work at an early age under the leadership of Pastor, Rev. Felton C. Ceaser. Pastor Smith in his younger years served as a member of the junior choirs, junior ushers, and junior deacons. As many, Pastor Smith also went through many life changing experiences at an early age that ultimately played a big part in shaping him into the person he is today. Finding his way back unto the Lord as the prodigal son, Pastor Smith pressed his way back into the Church, grew in Ministry, and in the progressive will of God, and became not just a follower of ministry, but matured into a leader by serving as the youth leader, youth choir director, Sunday School teacher, and accepting the call to the office of Diaconate(Deacon). Through a few years of faithful service, Pastor Smith was called by the Spirit of the Lord into the Gospel Ministry and Licensed as a Minister in 2003. Then through an Ordination Counsel overseen by Rev. Felton C. Ceaser, and the Louisiana Southern Baptist Association 5th District , Pastor Smith was fully Ordained as a Gospel Minister in 2006. The Lord continued to use Pastor Smith in the Ministry to be a person of effectiveness among his peers and most definitely with the youth in his church and throughout the community. 
In 2008, under Gods Divine Order, Pastor Smith was called to the Pastoral office with Emmanuel Baptist Church of Donaldsonville. Pastor Smith would serve in this Pastorate for over 2 years where the church took upon tremendous growth. However, in 2010, Pastor Smith, was led by the spirit of God to give birth to the new 21st century ministry known today as Fountain of Faith Christian Center. Pastor Smith and First Lady Shanita L. Smith founded this ministry with four officers, and a faithful few, and on the 4th Sunday of November, and during one of the first spirit led worship services, with an open invitation to discipleship, 117 saints walked the aisle to join membership with what's expected to be one of the fastest growing ministries in the Donaldsonville and surrounding areas.
Since that Sunday, the ministry continues to grow by the Grace of God, as Pastor Smith continues to cast the vision of being a Vibrant, a Vital, and Victorious Church. 
Pastor Smith continues to pursue his passion, which is to equip the saints for ministry while edifying the body of Christ according to what the Holy Bible reveals and expresses toward them that believe in the ultimate will of God.
 Pastor Smith is married to the lovely First Lady, Shanita L. Smith and is the father of three wonderful children. Pastor Smith has previously attended "United Theological Seminary" of Houma La., and New Life School of Theology Bible College. It is Pastor Smith's goal to see the advancement of Gods Kingdom and the spirit of God move mightily not just locally but also nationally. Pastor Smith just wants to do his part in the Kingdom so that God can continually get the Glory in and through his people. Pastor Smith would conclude that at the end of the day:
"LET THE WORK I'VE DONE, SPEAK FOR ME"

Shanita L. Smith - Executive Administrator -

att.net@ladyshanita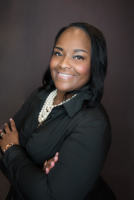 Deborah Jordan - Executive Secretary -

att.net@fountainoffaith

Myla Oubre - Administrative Assistant -

att.net@fountainoffaith

Trina Butler - Deaconess - Ministry Assistant

Constance Gibson - Deaconess - Ministry Assistant

Wendy Price - Deaconess - Ministry Assistant

Albert Price - Deacon - Ministry Assistant

Royal Harvey - Deacon - Ministry Assistant

John Smith - Deacon - Ministry Assistant

Nehemiah Williams - Deacon - Ministry Assistant

Church Ministries - Fountain Of Faith Christian Center -

att.net@fountainoffaith
Ministry of Elders/Ministers: The Called... This ministry consist of those who have been called by God to serve in ministry through various areas as selected. This is a position of those that have been Licensed by or confirmed by our Senior Pastor.

Ministry of Armourbearer:
This ministry is committed to serving the man and woman of God with a spirit of excellence. This ministry is a very strong support both physically and spiritually to our 1st Family. This is an appointed position by our Senior Pastor.

Ministry of Media:
The Media ministry is responsible for the production and distribution of all ministry tapes, videos and compact discs.

Ministry of Bereavement:
The Bereavement ministry's focus is to assist those who have suffered the loss of a loved one.

Ministry of Christian Education:
The Christian Education ministry is responsible for ALL educational aspects of the ministry (workshops, seminars, school of ministry, etc).

Ministry of Deacon:
The Deacon Ministry assists the Pastor, congregation and community. This position is appointed by our Senior Pastor.

Ministry of Deaconess:
The Deaconess Ministry assists the Pastor, congregation and community. This position is appointed by our Senior Pastor

Ministry of Evangelism:
The Evangelism Ministry is an outreach ministry going out into surrounding communities witnessing to men, women, boys and girls about the true love of our Lord and Savior Jesus Christ by providing practical training to equip the Saints to be an effective witness of the Gospel.

Ministry of Greeters:
The Greeters Ministry is responsible for welcoming members and visitors as they enter the sanctuary for worship.

Ministry of Hospitality:
The Hospitality Ministry is responsible for creating an atmosphere of serenity as they accommodate the needs of our special guest.

Ministry of Intercessory Prayer:
The Intercessory Prayer Ministry is responsible for under girding the church, pastor and membership in prayer. This ministry is responsible for setting the atmosphere of worship prior to Sunday Service and any ministry event..

Ministry of Men:
The Men's Ministry caters to all men and young men of the Church Family.

Ministry of New Members:
The New Member's Ministry is responsible for making sure that all members who have joined are well orientated through the New Members Orientation and Training classes.

Ministry of Ushers:
The Ushers ministry greets and seats our members and visitors upon entering the sanctuary..

Ministry of Youth:
The Youth Ministry meets the spiritual needs of our young people ages 7-17.

Ministry of Women:
The Womens Ministry caters to all women, young and old, of the Fountain of Faith church family and the community.

Ministry of Music: The Music Ministry consists of members of all ages used by God to minister His message through praise and worship.

Church Services - Fountain Of Faith Christian Center -

att.net@fountainoffaith

INTERCESSORY PRAYER SERVICE
(Sundays @8:30am) (Wednesday @6:30pm)
FOFCC, 210 Plimsol Dr. Donaldsonville La. 70346

WEEKEND WORSHIP SERVICE
(Sundays @8:30am)
FOFCC, 210 Plimsol Dr, Donaldsonville La. 70346

MID-WEEK BIBLE STUDY SERVICE
(Wednesday @7:00pm)
FOFCC, 210 Plimsol Dr, Donaldsonville La. 70346

LORD'S SUPPER (COMMUNION) SERVICE
(1st Sundays @8:30am) FOFCC, 210 Plimsol Dr, Donaldsonville La. 70346

ORDINANCE OF WATER BAPTISM SERVICE (4TH Sundays @10am) FOFCC, 210 Plimsol Dr, Donaldsonville La. 70346